Highlights in Sakai 11+ include:
On August 14, 2018, Claremont Sakai was upgraded to Version 11+ just before the Version 12. This upgrade brings a host of new architecture improvements, improved features and tools including a user-friendly mobile experience, that will be much easier to navigate.
In order to see all the new changes to Claremont Sakai, you need to clear your web browser cache. Find how to clear your browser cache.
If you are new to Sakai or haven't used it in a while, Sakai User Guide in Help
is a great start to know Claremont Sakai.
Responsive User Interface
Sakai 11+ uses responsive design, which resizes itself intelligently to fit the screen of your desktop, mobile, tablet, etc. It improves mobile users' accessibility as well as screen-reader compatibility. A number of functional enhancements include:
iframe-less tool structure
Breadcrumb navigation bar
Simplified process for managing favorite sites
↑ Back to top of page
Favorite Your Sites
Sakai 11+ has better control over the sites listed in the top navigation with quick favoriting/pinning features. Sites will always be available via the Sites tab at the top right corner. This feature allows you to easily organize/navigate the sites you have access to. The Sites tab also provides the ability to search and categorize sites based on type. Find how to favorite your sites.
↑ Back to top of page
Grade with Ease
The new Gradebook tool is designed to provide faster, easier grade-entry capability, such as:
Spreadsheet-style grade entry
Automatic saving/score validation
Better synoptic view of grades for student and instructor to review together
Individual student grade Summary screens with integrated Student Review Mode
Simplified and consolidated Import/Export process
Enhanced statistics for graded items
Flexible display options for final course grades (letter grade, percentage, points)
Improved accessibility
Simplified setting screen
Please note that Gladebook Classic is scheduled to be deprecated next upgrade (2019).
↑ Back to top of page
Better MathML and LaTeX Support
Sakai 11+ can display LaTeX equations as mathematical notation on all tools that have WYSIWYG HTML Editor. This will improve the presentation and accessibility of math and science notation through the availability of LaTeX markup. Getting started, here is the LaTeX Cheat Sheet
for you.
↑ Back to top of page
Simple and Quick Lessons
The Lessons tool can be more easily picked up and used to deliver content with simpler menus and clearer instructions. These include:
Simplified menu bar with categories menu items
More concise instruction on the Lessons landing page
New functionality: section breaks and column breaks
New page layout design possibilities (breaking content items into multiple sections and columns)
Multiple ways to add content items on the page
Style settings for column content areas
Enhancements to forum topics
Enhanced student content areas and peer review rubrics
Responsive design
↑ Back to top of page
Checklist on Lessons
Instructors are able to add a checklist for students to their Lessons. The checklist allows students to self-report their progress and instructors to know student's progress. Find how to add a checklist.
↑ Back to top of page
Improved Tests & Quizzes
The Tests & Quizzes tool in Sakai 11+ has a number of new features and improvements, including:
Improved reporting capabilities, including the ability to see all assessment submissions for a student
New side panel that allows students to track question progress in an assessment
New question type added: hot spot question. For more details in Find how to create a hot spot question.
So many other enhancements
↑ Back to top of page
Softly Delete Sites
By default, when a site is deleted it is now only actually 'softly deleted' and will be recoverable for a period of 180 days (6 months). To recover a site, use the Worksite Setup tool, select "Softly deleted sites" and choose the sites that you wish to restore. The deleted sites will be cleaned out regularly by an automated script.
Please note that while this is a Sakai 11 feature, Claremont Sakai has had this feature enabled since Claremont Sakai 10.7. Sakai admin backported and added this feature into Claremont Sakai 10.7 to better serve our users.
Find more about how to restore deleted sites.
Please also note that users can restore accidentally deleted files/folders without an admin's help. Find how to restore deleted resources.
↑ Back to top of page
How can I find my courses in Sakai 11+ after logging in?
Click the

Sites

tab in the top right corner.
Enter

"FA18"

in the

Filter Sites

at the left corner. You should see your FA18 course sites. If you cannot find your desired sites, go through step 5-7 in order to add your desired sites into the Sites drawer.
Once you find your sites, click the

star

next to your FA18 course sites.
Click the

Organize Favorites

and reorganize your FA18 course sites.
Done!


Optional Steps (Steps 5-7 are only required if you cannot find your sites in the Sites drawer):



click the

Worksite Setup

tab in the left menu bar of your Home site
Search

"FA18"

in your search box at the right corner
Click your desired sites under

Worksite Title

. Now you should see your FA18 course sites in the banner at the top of the page. In order to make them favorites, refer back to step 1-4.

Note: Only the first six (6) ranks will be visible at the top of the page. If you would like to see a specific course site in the top banner, make sure it is ordered to be in one of the first six positions.

Note: Graduate school course sites may be different.

Here is further information about how to navigate your sites

↑ Back to top of page
How can I log out of Sakai 11+?
The Logout link is located at the top right of the screen where you see your name. If you're using a mobile device, just tap the profile image.
In the dropdown menu, select the

Log Out

option.
For best security practice, log out and close your browser if you are leaving the computer, especially if you're using a device located in a public location. It's important to protect access to your courses and sites in Sakai. Logging out and closing your browser helps you to do this.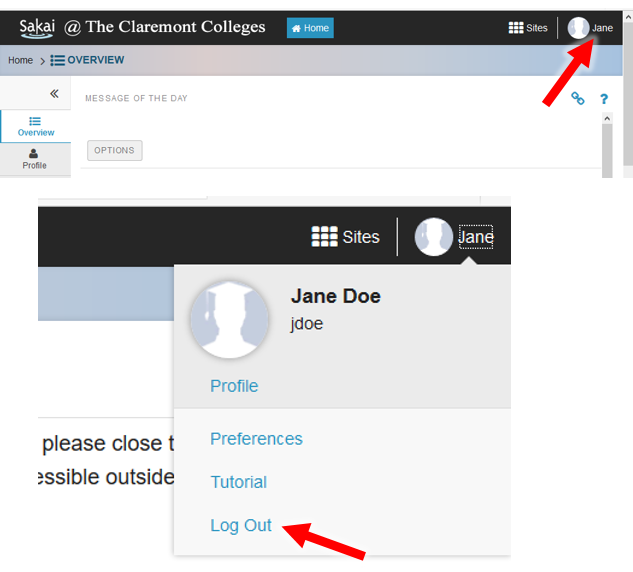 ↑ Back to top of page
Known Issue and Workaround
Lessons

:

Cancel

button does not work as expected. If you are using "Cancel" button on Settings of Lessons when you try to modify the settings but don't want to save it, please note that the cancel button actually does not do anything. You should select your desired setting (or default setting) and make sure you save it again as a workaround.
↑ Back to top of page



You can also find more information in the Sakai Community's Help pages.


Reference: Sakai 11 New Feature Summary retreived on Aug, 8, 2018.