Highlights in Sakai 12 include:
General Improvements
Better support for Mathjax, changes are now reported by email.
Improved accessibility.
Auto-favoriting feature in Sites now keeps your newly favorited sites only!
You can now add any HTML5 content to any Tool's CKEditor.
↑ Back to top of page
The New Attendance Tool!
Sakai 12 now has a new Attendance tool to help both Students and Instructors keep track of attendance in courses.
The Attendance tool automatically tallies students' attendance.
Allows students to see their attendance report.
The best part is that you can integrate it with the Gradebook!
↑ Back to top of page
What's New in Assignments?
New feature to use the Assignments tool with more ease.
Recovery of the deleted assignments: Now instructors can recover the accidentally deleted assignment via "Removed Assignments List".
↑ Back to top of page
The New Bullhorns Tool!
Sakai 12 now has a new alerts feature!
The New Bullhorns tool allows for important alerts from academic tools such as Announcements and Assignements and also from social tools such as Profile!
The two type of alerts(academic and social) will appear in the portal tab at the top of your screen!
↑ Back to top of page
What's New in Calendar?
The Calendar tool now has more features for seamless integration of events from different platforms!
Calendar now supports recurring events for calendar imports(Ex. Importing from Google Calendar or iCal).
Calendar Week now displaying events correctly!
↑ Back to top of page
The New Commons Tool!
A new tool for a more social Sakai!
Make your site more social! The new Commons tool allows for such interactions now.
It functions similarly to Facebook with wall-style posts on a single page.
↑ Back to top of page
Grading Made Easier with Improved Gradebook
Enhancements allowing for smooth usage of Gradebook for Instructors.
New feature allowing instructors to view and adjust final grade distribution.
Gradebook now scales grades when point value of item is changed.
Grade Statistics: Instructors can now view a quick summary of the grade distribution for a gradebook item, including the mean, median, standard deviation, lowest score, highest score, total number of graded scores, and a bar chart illustrating the data.
Comment length has been increased from 500 to 20,000 characters.
Gradebook now supports section and group filter in export options.
Gradebook now provides the "omissions" and "preview grades" panels during import.
The new tooltip is now added into the Gradebook after creating a new gradebook item.
Gradebook now has role checks and redirects to all gradebook pages.
Now users can see a visual indicator of dropped scores when Drop Highest/Drop Lowest/Keep Heighest are enabled for categories in the Gradebook.
↑ Back to top of page
New Features in Lessons!
New features in Lessons tool for easier navigation, viewing and engagement.
Consolidate Lesson Pages in Site Tool Menu: Have a lot of Lesson pages cluttering up your left site menu? Sakai 12 comes with the option of adding a collapsible Lessons Subpage navigation menu! Site Info Manage Tools check Enable Lessons subpage navigation in the left menu Continue Finish.
New component, Add Resources Folder available now.
Embed Announcements, Calendar, Forum Posts :There are new widgets! In Sakai 12, you can embed the following tools on a Lessons page: Announcements, Calendar, Latest Forum Posts. Lessons Add Content Embed Announcements / Calendar / Forum Conversations.
Video files (mp3, mp4) embedded on a lesson page stop automatically downloading - NOTE : We found that FF and IE Edge are working as expected but Chrome is intermittently not working depending on the mp4.
HTML5 embedded into Lessons: H5P makes it easy to create, share and reuse HTML5 content and application. H5P content is embedded in the same manner as a YouTube Video.
↑ Back to top of page
Improvements and Returning Features for Resources!
Now users can see new font awesome icons for closed and open folders.
Search: Users can locate a specific file or folders by clicking All Site Files and enter keywords.
Now users can add and view a folder/file from Resources to Lessons even if Resources is hidden from left menu
Add Another Folder is back, you can now add multiple folders at once!

↑ Back to top of page
New Stuff in Rosters!
Now Rosters can display the "participant's properties" with the appropriate permission.
↑ Back to top of page
The New SCROM Player!
A new tool for SCORM Player, now users can easily upload SCORM contents into Sakai.
↑ Back to top of page
What's New in Site Info?
Now users can create a bulk of groups with group names and username via Bulk Creation tab.
Site Info improves printable PDF formatting for the participants list.
Now users can see academic and social bullhorn alerts to portal topbar.
New Editor tab is added into the Preferences for three options for Rich Text Editor.
↑ Back to top of page
What's New in Statistics?
Now users can view the average time a user stays present on the site, per visit Average presence time per visit tab.
↑ Back to top of page
Improved Test & Quizzes!
All around improvements for Test & Quizzes!
Need to create an exception for one of your exams? You can now more flexibly and easily grant specific students different time limits or due dates for exams depending on need with the new option Exceptions to Time Limit and Delivery Date.
Now Test & Quizzes allows instructors to see all responses of re-taken exam under All Submissions.
Now instructors can see the question point value in the question pool table.
The alert message is displayed when user tries to publish an exam with the same date for available and due date.
Hot spot (using images) question types are now responsive (aka works well on mobile devices).
↑ Back to top of page
Workarounds
Currently RSS feeds are not supported by all browsers. To be able to use them you can add an extension to your respective browser that supports RSS feeds if necessary!
How can I find my courses in Sakai after logging in?
Click the

Sites

tab in the top right corner.
Enter

"FA19"

in the

Filter Sites

at the left corner. You should see your FA19 course sites.
Once you find your sites, click the

star

icon next to your FA19 course sites. The star should be filled in after you click on it.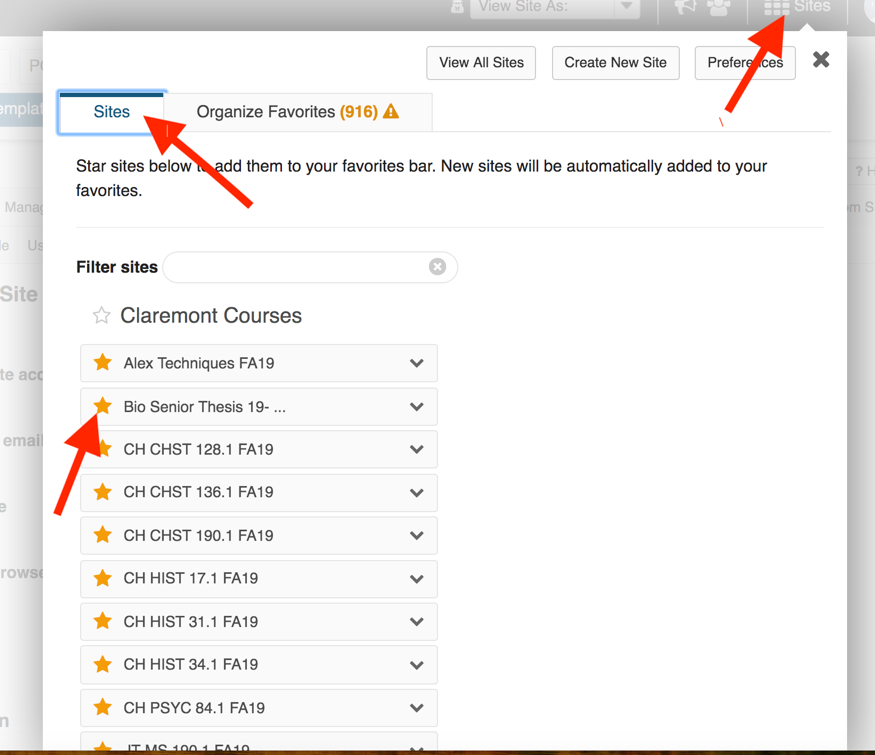 Click the

Organize Favorites

and reorganize your FA19 course sites by hovering over the icon of three bars to the right of each site name. Your pointer should become a hand icon, then you may drag and drop your favorited sites to your preferred order.
Done!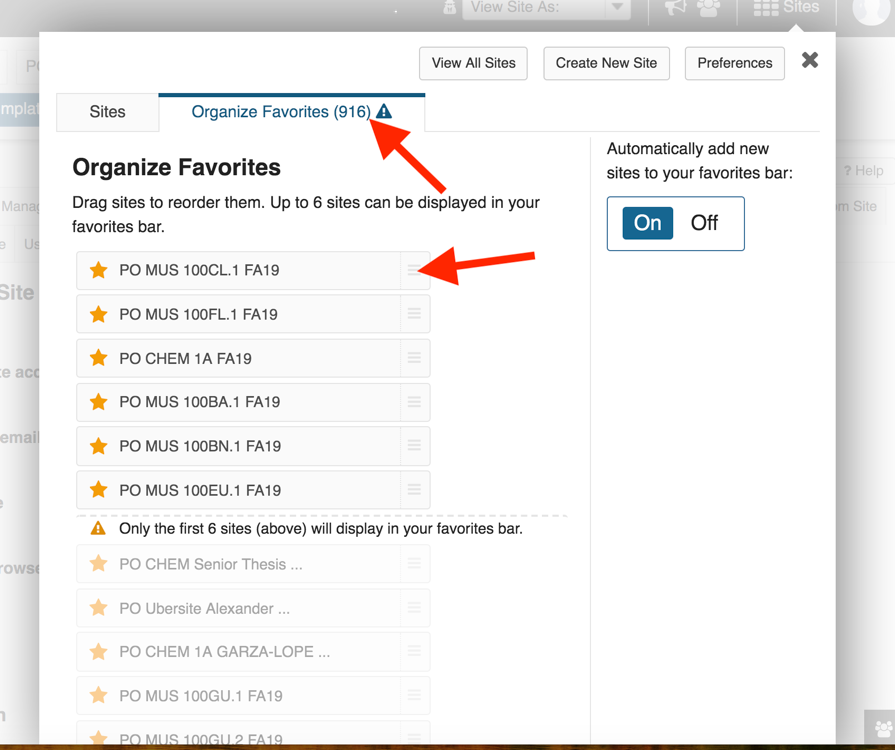 Optional Steps (Steps 5-7 are only required if you cannot find your sites in the Sites drawer):
click the

Worksite Setup

tab in the left menu bar of your Home site
Search

"FA19"

in your search box at the right corner
Click your desired sites under

Worksite Title

. Now you should see your FA19 course sites in the banner at the top of the page. In order to make them favorites, refer back to step 1-4.
Note: Only the first six (6) ranks will be visible at the top of the page. If you would like to see a specific course site in the top banner, make sure it is ordered to be in one of the first six positions.
Note: Graduate school course sites may be different.
↑ Back to top of page
Other Information
Want to learn more? Please contact your college ITS and ask one of Learning Innovation Workshop members about new features in Sakai 12. To minimize impact on faculty and students, course upgrades occur every August. The technology and learning team collaborates in advance with each of the University's five (5) schools to schedule the best day and time for the year's upgrade. Upgrades typically incorporate a number of changes, including:
New Features
Enhancements for Existing Features
System Updates
Database Updaes and Improvements
Security Updates
These upgrades are important to keep the Claremont Colleges' learning management system on an innovative curve.
↑ Back to top of page