How do I take attendance?
Instructors can take attendance in one of two ways. The first way is to click Take Attendance Now when you first enter the tool.

When you enter the Attendance tool, you'll be taken to the Attendance tab which gives you the option to Take Attendance Now.
Click on the Take Attendance Now button and it will take you to a table with all of the students in the site and their status for that particular attendance item.
Scroll through the students and click on the appropriate status for each person.

You can use the first dropdown menu to sort the students by group.
You can use the second dropdown menu to assign a certain status to each member of the selected group.
You can leave a comment for each student by clicking on the speech bubble icon in the table.
The second way to take attendance is to click on the Add tab to create an attendance item with a particular title, date, and time.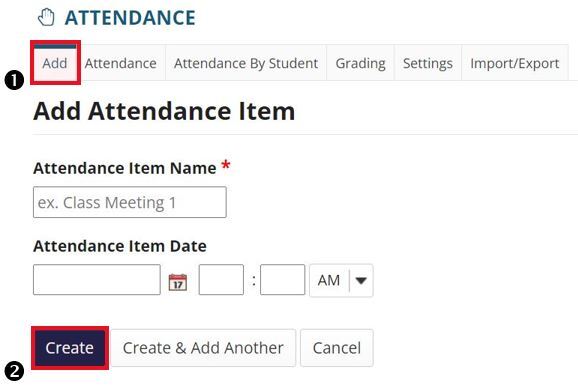 Click on the Add tab near the top of the screen.
When you're finished entering the attendance item details, click Create.
Once you've created the attendance item, it will appear in a table with all of your other attendance items in the Attendance tab. If you click on it, it will take you to the same kind of page as the Take Attendance Now button.